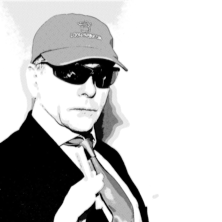 STORYTELLING
An Epic Saga unfolds
I love storytelling, theatre and provoking laughter. These passions birthed an epic saga of good against evil (that reflects and examines my inner mental struggle). DREAMTRYB was born. It's bonkers, half reality half invention and great fun.
Think a British mix of James Bond, The Office, Mike Myers, Marvel with music and The Srewtape letters. English base, Canadian and International stage. Characters have developed - Frank Speaker is the spokesman (pictured) he will try to guide us through, in his inimitable way.
Frank's up against it and needs our help. He needs Special Agents to help Free NICKSTIR, release F.I.G., and change our world for good. In the process Special Agents get their own inner NICKSTIR's fired up and encouraged.
Membership tier being developed…